CV Pattern Match
Convert IPA Target and IPA Actual transcripts into a CV pattern and compare the results.
Parameters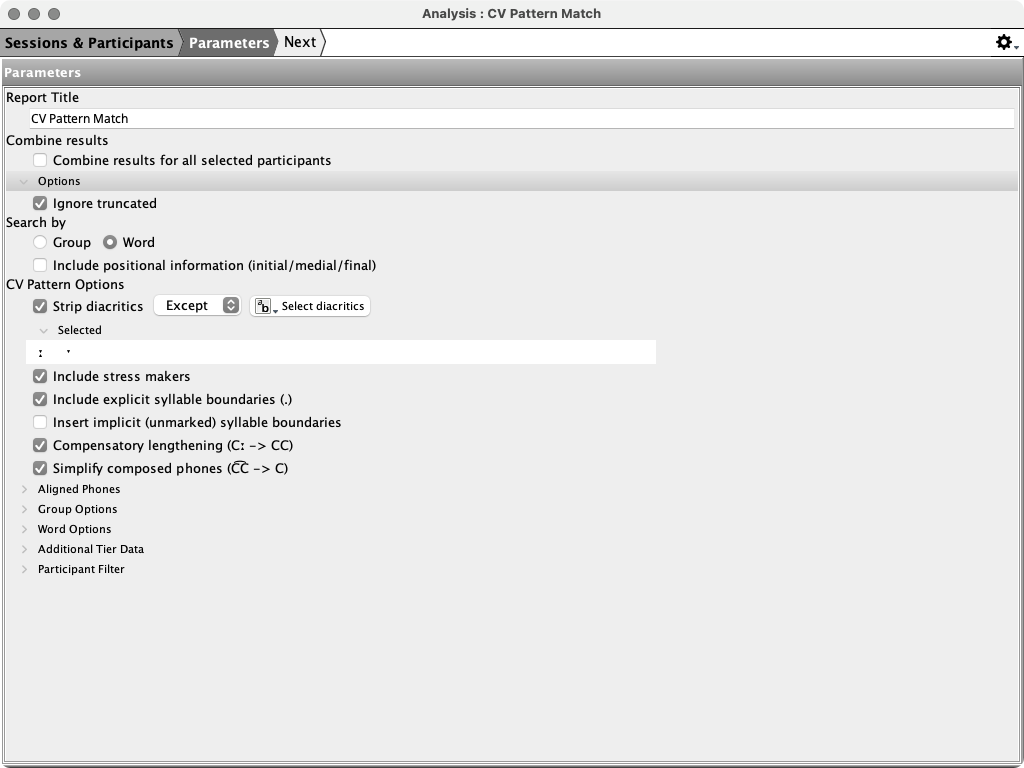 The following parameters are available:
CV Pattern Options - these options affect how the CV pattern of IPA transcripts is constructed.

Strip diacritics - See Diacritic Options
Include stress markers
Include explicit syllable boundaries (syllable breaks marked with a dot '.')
Insert implicit syllable boundaries - insert a dot at every syllable break which is not marked with stress.
Compensatory lengthening - any C or V marked with a long or halflong diacritic will be doubled. Note: if length diacritics are ignored then this setting will have no effect.
Simplify composed phones - phones composed with a ligature will be reduced to a single character.
Other parameters
Report Outline
A sample table of contents is displayed below. Bold level elements are section headers while italic items are tables.
CV Pattern Match

Summary (all participants)

Participant 1

Summary

CV Pattern Matches
CV Pattern Mismatches

… (for each selected participant)
Listing (all results)
Example
Click the link below to view an example report.

Example Report
See Also
This analysis is also part of the Word Match analysis available in the Specialized section in the Anslysis menu.